Service
The Full Porchetta we provide can feed 80 plus people. We are able to supply functions, restaurants or clubs according to your individual catering requirements and will deliver your Porchetta order hot or cold on request, directly to your location.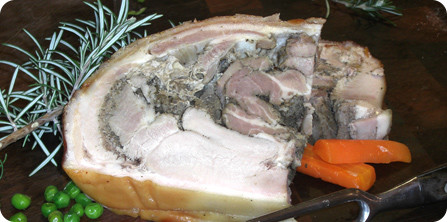 For those wanting to enjoy the succulent taste of a fresh Porchetta at home but in a more convenient size, we also offer Small Porchetta Roasts. These are perfectly proportioned for sharing with a smaller number of family and friends and fit into most conventional sized ovens.
Porchetta makes a fantastic dinner meal, but can also be enjoyed anytime as part of a sandwich, making these Small Porchetta roasts a great lunch or snack-time option too.
If you are interested in purchasing a Small Porchetta Roast, they are available from our Southern Meat Company Retail Store, sold uncooked and ready for you to cook and eat.
Southern Meat Company Retail
10 & 12, 
70 Kingsway Drive,

Lalor Hub, VIC 3075

P 03 9464 3233

F 03 9464 4305